The art of capturing a moment has evolved over the years, from classic still photography to the interactive experience of a 360-degree photo booth. Today, we will guide you on a journey through the world of 360 photo booths, specifically focusing on
The Wow Factor
, a top-tier rental company serving Northbrook, IL and the Chicagoland area. We'll highlight why they are the go-to provider for your wedding, event, or party needs in 2023.
What is a 360 Photo Booth?
Imagine a platform where guests step on, strike a pose, and then are surrounded by a camera that rotates to capture photos or video from every angle. This, in essence, is a 360 photo booth. Combining the latest in photo booth technology with interactive engagement, these booths are quickly becoming the "must-have" prop at events across the globe. The Wow Factor, an industry leader in entertainment rentals, takes this technology to new heights. With state-of-the-art equipment, professional attendants, and customizable packages, they've turned a simple photo booth rental into an unforgettable experience.
Why The Wow Factor's 360 Photo Booth is the Best in Northbrook
The Wow Factor's 360 photo booth rentals in Northbrook, IL, go beyond the conventional. Firstly, the quality of their 360-degree camera is unmatched. The high-resolution photos and videos ensure every memorable moment is captured with the highest quality. Secondly, they offer a range of props – from silly hats to glamorous glasses – to add that extra spark of fun. A custom backdrop, colorful lighting, and photo strip prints make each photo unique. Additionally, all these photos and videos can be shared digitally, creating lasting memories for everyone involved.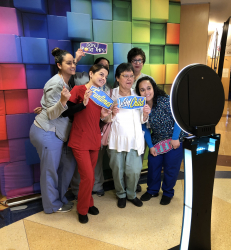 Section 3: Exceptional Services Beyond the Booth
Renting a 360 photo booth in Northbrook from The Wow Factor does not just provide a booth; it offers a complete interactive experience. Their professional booth attendants ensure everything runs smoothly, from setting up to engaging your guests and making them feel comfortable in front of the camera. Furthermore, their custom package options allow you to tailor your experience according to your event's size, venue, and budget. If you're planning a wedding, you'll be thrilled to know that their booth doesn't only entertain guests but also creates memorable wedding photos.
Serving Northbrook and Beyond
While The Wow Factor is a prime choice for photo booth rentals near Northbrook, they also serve the wider Chicagoland area. Whether you're planning an event in Downers Grove, Park Ridge, Bolingbrook, or any suburb in between, their dedicated team is committed to bringing the fun to you.
Contacting The Wow Factor
If you're interested in hiring a
360 photo booth
for your event, don't hesitate to
contact
The Wow Factor. Their team is ready to answer any queries and provide you with the best service possible. With reasonable pricing and top-notch equipment, The Wow Factor truly lives up to its name when it comes to photo booth rentals in Northbrook, IL.
Conclusion
In the age of interactive experiences, a 360 photo booth is a game-changer. And when it comes to renting one, look no further than The Wow Factor. With their commitment to quality, dedicated service, and a myriad of customizable options, your guests will be wowed, and your event will be remembered for years to come.
FAQs:
What is a 360 Photo Booth?
 A 360 Photo Booth is an interactive booth where guests step onto a platform and a camera rotates around them, capturing photos or videos from every angle.
Why choose The Wow Factor for photo booth rental in Northbrook, IL?
 The Wow Factor provides top-quality 360 photo booths with high-resolution cameras. Plus, we offer a range of fun props, customizable packages, and professional attendants for a complete interactive experience.
What areas does The Wow Factor serve?
 While based in Northbrook, IL, The Wow Factor also serves the wider Chicagoland area, including  Evanston, IL, Waukegan, IL, Arlington Heights, IL.
What kind of events are suitable for a 360 photo booth?
 360 photo booths are perfect for all kinds of events, including weddings, parties, corporate events, and any gathering where you want to provide an engaging, memorable experience for your guests.
How can I hire The Wow Factor for my event?
 You can contact The Wow Factor directly through our website or call us. We will answer all your queries and guide you through the rental process.