Planning a memorable event in Northbrook, IL, just got more exciting with the option of
obstacle course rentals
. This entertainment gem not only adds a hearty dose of fun but also brings that "wow factor" to any gathering. This guide aims to provide you with all the essentials when it comes to obstacle course rentals in Northbrook, ensuring your next event is both exhilarating and seamless.
Discovering the Wow Factor with Obstacle Course Rentals in Northbrook, IL
When it comes to hosting an event that stands out, creating a memorable experience is paramount. This is where the "wow factor" comes into play, a term coined to define elements that bring a sense of awe and wonder to occasions. A blog post titled "
The Wow Factor
," by a local Northbrook source, delves into how obstacle courses embody this captivating essence, making them a go-to choice for those looking to level up their event entertainment. Obstacle course rentals in
Northbrook, IL
, are not just about inflatable structures; they are about creating an environment where fun, challenge, and physical activity coalesce into an unforgettable adventure. Whether it's a corporate team-building event, a community festival, or a private party, an obstacle course rental is sure to add that desired "wow factor" to the day's festivities. The beauty of obstacle courses lies in their ability to cater to a broad spectrum of demographics. Children, teens, and adults alike find a playful challenge in navigating through the various elements of an obstacle course. It's a physical and enjoyable way to engage the body and mind, promoting not only fun but also healthy competition and camaraderie. In Northbrook, the variety in obstacle course rentals is commendable. From the adrenaline-pumping 100-Foot Monster to the thrilling twists and turns of the 95-Foot Toxic U-Turn, there's something for every thrill-seeker. Not to mention, the aesthetic appeal of different themes like the 40-Foot Camo Obstacle Course or the 45-Foot Toxic which add a visual appeal to the overall setup, enhancing the ambiance of your event.
Variety of Obstacle Courses to Choose From
Northbrook, IL, offers a plethora of obstacle course rentals, each with its unique attributes and thrill factors, catering to different age groups and preferences. The variety ensures that whether it's a kid's birthday bash, a community fair, or a corporate team-building event, there's an obstacle course ready to elevate the fun and challenge.
Inflatable Obstacle Courses:
These are the epitome of bounce house fun melded with a challenging layout of obstacles. The options range from the adrenaline-inducing 100-Foot Monster to the compact yet thrilling 40-Foot Classic. Inflatable obstacle courses are perfect for younger kids and teens, providing a safe and exciting environment for them to navigate through.
Water Slide Obstacle Courses:
When the summer heat hits, water slide obstacle courses like the 95-Foot Toxic U-Turn become the star of the show. Combining the refreshing thrill of a water slide with the challenging aspects of an obstacle course, these rentals are perfect for cooling off while engaging in some friendly competition.
Theme-Based Obstacle Courses:
Themes add an extra layer of excitement and visual appeal to the obstacle courses. For instance, the
40-Foot Camo Obstacle Course
offers a military-style challenge, while the 45-Foot Toxic presents a neon-colored, exhilarating experience. These theme-based courses create a visually stimulating environment that enhances the overall entertainment factor.
Mega Obstacle Courses:
For the ultimate challenge, mega obstacle courses like the 135-Foot Beast or the 75-Foot Toxic Mega stand unrivaled. These extensive courses offer a series of challenging obstacles, providing an extended adventure that will have participants racing to beat their own times or compete against others.
Specialized Obstacle Courses:
Some obstacle courses like the Adrenaline Rush 2 offer a unique blend of features, providing a fresh and exhilarating experience. These specialized courses often come with innovative design elements, providing a novel challenge for repeat adventurers.

Selecting a Reliable Obstacle Course Rental Company in Northbrook
Choosing a reputable, fully insured obstacle course rental company is crucial for a safe and hassle-free experience. Look for companies that offer a diverse range of options, including inflatable obstacle courses, bounce houses, and water slide rentals. Reviews and recommendations can guide you to the best party rental companies in the area.
Enhancing Your Event with Additional Party Rentals
While an obstacle course rental can significantly uplift the entertainment quotient of any event, integrating additional party rentals can take the experience to a whole new level. Northbrook, IL, has a diverse range of party rental options to complement the excitement of an obstacle course. Here's a look at some additional rentals that can further spice up your event:
Bounce House Rentals:
Bounce houses are a timeless attraction for kids and a fantastic way to add a playful vibe to your event. Options like the inflatable bounce houses offer a safe and fun space for children to jump around and burn off some energy.
Water Slide Rentals:
Water slides, like the water slide rental offerings in Northbrook, IL, are a refreshing addition, especially during the summer months. They provide a cool escape from the heat while ensuring the fun keeps flowing.
Tent Rentals:
Tents serve a dual purpose of providing shelter from the elements and delineating spaces for different activities. They can house seating arrangements, food and drink stations, or even a quiet area for guests to relax and chat.
Interactive Rentals:
Interactive rentals like game rentals, photo booths, or mechanical bull rentals add a unique fun element to the event. They provide engaging activities for guests, promoting interaction and laughter.
Chair and Table Rentals:
Comfortable seating arrangements and ample table space are crucial for ensuring your guests can relax and enjoy the festivities. Chair and table rentals in Northbrook, IL, offer a practical solution to accommodate your guests comfortably.
Equipment Rentals:
Whether it's sound systems, lighting, or other event equipment, having the right gear is essential for creating the desired ambiance and ensuring the smooth flow of activities during your event.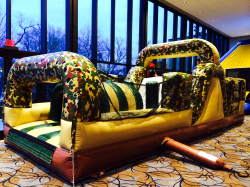 Preparing for Your Obstacle Course Rental
Ensure you contact the rental company well in advance to discuss your specific needs and the logistics involved in setting up the obstacle courses. Inquire about the delivery, setup, and teardown procedures to have a clear understanding of what to expect.
Prioritizing Safety for an Enjoyable Experience
Safety should never be compromised. Ensure that the rental company adheres to the safety standards set by the state of Illinois, and has a fully insured operation. Having a designated area for the obstacle course, away from any hazardous objects, will also contribute to creating a safe environment for your guests.
Wrapping Up Your Obstacle Course Rental Experience
Post-event, the rental company will manage the teardown and removal of the obstacle course and other rented items. Reflect on the experience, provide feedback to the rental company, and start planning your next unforgettable event!
Contact Us for Your Next Adventure
Ready to add an adventurous twist to your next event?
Contact us
for more information on obstacle course rentals in Northbrook, IL. Our extensive range of inflatable rentals is sure to provide a memorable, "wow factor" experience for all your guests. Your obstacle course rental in Northbrook is just a call away!