Is it time to plan your next event in Chicago, IL, and you're looking for an innovative approach to infuse fun and excitement? Consider
The Wow Factor
, a leading party rental company in the Chicagoland area, known for providing unparalleled entertainment options including mini golf rentals and arcade game rentals.
Mini Golf: A Timeless Attraction
Mini golf is a timeless attraction that guarantees a fun-filled experience for all age groups. Whether you're hosting a family gathering, a corporate event, or a birthday party, including a mini golf course in your event could be the game changer you're looking for. Our indoor mini golf rental provides an immersive experience that transports players to another realm. Our courses are glow-in-the-dark themed, further enhancing the fun vibe of the game. Our portable mini golf rentals are suitable for both small and large events, easily accommodating any event space. Our mini golf course features 18 challenging holes, each designed with unique obstacles to make the game exciting and engaging. Players of all skill levels, from novice golfers to seasoned pros, can enjoy a round of mini golf at your event.
Arcade Games: The Ultimate Indoor Entertainment
When it comes to indoor entertainment in Chicago, IL, arcade games are a top choice. The Wow Factor's selection of arcade games brings the family fun center right to your event. Our game rentals range from classic arcade favorites to modern gaming consoles. Whether you want to recreate the nostalgic feeling of an old-school arcade or introduce your guests to the latest virtual reality gaming experience, we've got you covered. Our arcade game rentals are perfect for all age groups and interests. We offer a wide variety of games from racing, shooting, and strategy games, to multi-player interactive games. Our gaming rentals are easy to set up, and we assure prompt delivery and installation for your event.
Taking Your Event to the Next Level with The Wow Factor
The Wow Factor isn't just about rental equipment; we're about creating experiences. Our aim is to help you take your event to the next level, making it memorable for your guests. We cater to events of all sizes, from small birthday parties in the suburbs to large corporate events in downtown Chicago. Our offerings extend beyond mini golf and arcade games to include World's Largest Pac Man, go-karts,
bounce houses
, and more, making us a one-stop solution for your event entertainment needs. In addition to our wide range of attractions, we prioritize safety and cleanliness. Our equipment, including our mini golf rentals and arcade games, is thoroughly cleaned and sanitized before and after each use. We adhere strictly to safety guidelines, ensuring a worry-free experience for you and your guests.
Plan Your Event with The Wow Factor
Booking your event with us is simple. We welcome reservations year-round and can accommodate last-minute bookings. We understand that each event is unique, and our team is ready to work with you to create a customized entertainment package that suits your specific needs and preferences. As a reputable party rental company in Illinois, we are committed to delivering top-notch customer service. From the moment you give us a call to the completion of your event, you can expect professionalism, efficiency, and a high level of attention to detail. With The Wow Factor, you're not just renting equipment; you're creating unforgettable memories. So, whether you're in Northbrook, Orland Park, or any other part of the Chicagoland suburbs, trust The Wow Factor to deliver an unmatched entertainment experience for your next event. So why wait? Turn your next event into a truly memorable experience with The Wow Factor's indoor mini golf and arcade game rentals. Let's make your event the talk of the town!
Contact us
today for a reservation or for more information.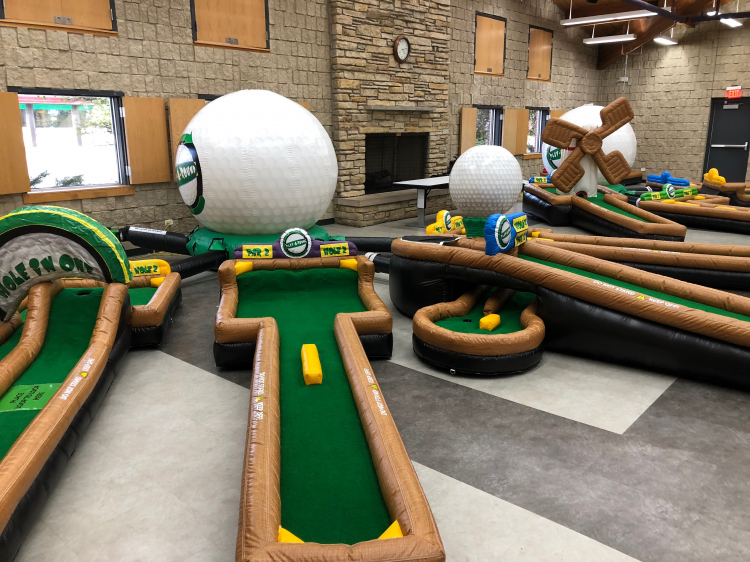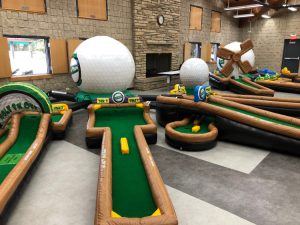 Extra Fun: Super Mario Bros, World's Largest Pac Man, and More
Super Mario Bros, World's Largest Pac Man, Zaxxon As part of our commitment to providing a complete entertainment package, we at The Wow Factor extend our offerings beyond just mini golf and arcade games. One of our star attractions includes Super Mario Bros – an always popular choice that brings out the inner child in everyone. Want to bring even more excitement to your event? Consider our World's Largest Pac Man rentals. An indoor World's Largest Pac Man game from The Wow Factor is a surefire way to add an adventurous vibe to your event. We provide state-of-the-art World's Largest Pac Man equipment suitable for all ages and skill levels, ensuring everyone at your event can participate and have a blast.
The Wow Factor: Best Choice for Event Rentals in Chicago, IL
In an entertainment center-heavy city like Chicago, setting yourself apart can be a challenge. At The Wow Factor, we believe that a unique, fun, and immersive experience is what makes an event truly stand out. Whether it's a corporate event, a birthday party, or a family reunion, our range of event rentals are designed to create that distinctive vibe. Our indoor mini golf rental in Chicago, IL, isn't just any regular mini golf course. We're talking about a glow-in-the-dark, 18-hole course that features LED lighting and themed decorations to add an extra layer of excitement. Our arcade rentals, too, are not just a collection of games. We offer a broad array of both classic and contemporary games, ensuring that we have something for everyone. From our mini golf rentals to our arcade games, and from Super Mario Bros to our World's Largest Pac Man, every aspect of our rental service is designed to ensure fun for all ages. We provide all the necessary equipment, right down to the golf balls and putters, so all you need to do is focus on having a great time.
Conclusion: Level Up Your Event with The Wow Factor
Planning an event can be stressful, especially when it comes to ensuring that your guests have a good time. At The Wow Factor, we strive to take some of that stress away. By providing an extensive selection of rental options, including our indoor mini golf and arcade games, we give you the tools you need to host a truly unforgettable event. If you're looking to make your next event in Chicago, IL, a memorable one, The Wow Factor is the best choice. Our diverse range of rentals, our commitment to customer service, and our emphasis on creating fun, immersive experiences set us apart from the rest. So whether you're planning a birthday party in Orland Park, a corporate event in Northbrook, or a family reunion in the Chicagoland suburbs, The Wow Factor is ready to take your event to the next level. Give us a call today to find out more about our offerings and how we can help make your event a resounding success. After all, we're not just a rental company; we're your partners in creating unforgettable experiences.
FAQs:
What makes The Wow Factor different from other party rental companies in Chicago, IL?
The Wow Factor offers an immersive and fun experience unlike any other. We provide not just regular party rentals, but unique attractions like indoor mini golf, arcade games for a complete family fun center experience.
Can I rent The Wow Factor's mini golf and arcade games for events outside of Chicago, IL?
Yes, while we are based in Chicago, IL, we service a wide range of areas, including Orland Park, Northbrook, and other areas within Chicagoland.
Are The Wow Factor's mini golf and arcade games suitable for all ages?
Absolutely! Our indoor mini golf and arcade games are designed for family fun, meaning they're suitable for all ages. From kids to adults, everyone can enjoy our entertaining offerings.
Do I need to provide anything for the mini golf or arcade game rentals?
No, The Wow Factor provides everything needed for the mini golf and arcade game rentals, including all the necessary equipment and setup.
Can I combine other rentals with the mini golf and arcade games?
Yes, you can add on other rentals such as World's Largest Pac Man, game rentals, and more to create a complete entertainment center experience for your event.